Submitted by

olmchina

on Mon, 08/24/2020 - 19:59
Strictly by appointment only
Located above the new St James Quarter lifestyle destination, New Eidyn comprises 152 beautifully crafted apartments with spectacular amenities and captivating views of the City.
INVESTMENT HIGHLIGHTS:
• Located in the very centre of the city and within the smart Georgian surroundings of the New Town, New Eidyn is within moments of many of Edinburgh's famous landmarks and essential amenities.
•    Part of the St James Quarter lifestyle destination, benefiting from four floors of shopping, dining and leisure.
•    St James Quarter, Edinburgh is one of the largest regeneration projects in the UK, with 1.7 million sq ft of retail, leisure and hotel space injecting over £1 billion of investment into the city.
•    Residents' ground floor reception, concierge and 24-hour security.
•    Fifth floor private residents' gardens with expansive views over the Firth of Forth.
•    Private underground residents' car parking.
•    Membership rights to the neighbouring W Edinburgh hotel's gym.
•    Five screen, Everyman cinema next door.
•    Estimated Completion Q1 2022
•    Prices from £350,000*
New Eidyn is a special opportunity for anyone seeking exceptional living in the very centre of this World Heritage City enchanting city.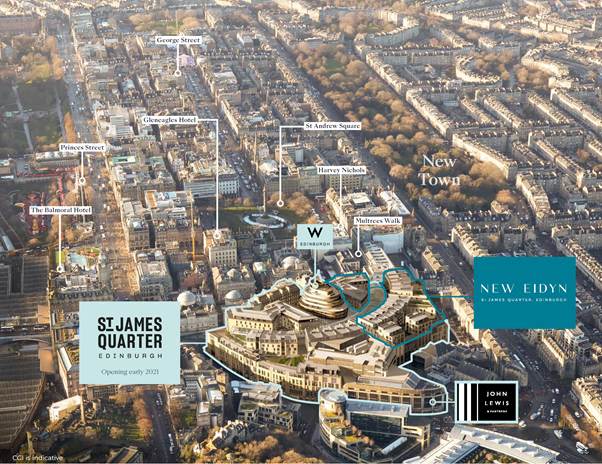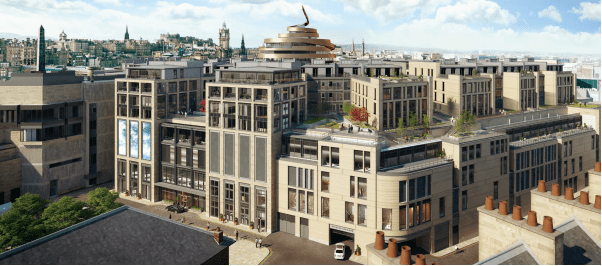 VIDEO
Location
WHY INVEST IN EDINBURGH
Edinburgh has been rising up international rankings as a business centre, as well as winning numerous international accolades for business environment and growth.
As the UK's largest financial centre outside of London, in the Global Financial Centres Index the city recently entered the Top 50 globally ranking 43 ahead of the cities such as Stockholm, Vienna, Madrid, and Moscow.
In addition to its financial service Edinburgh benefits from a diversified economy as the political centre of Scotland, a centre of education including leading edge BioScience research as well as a maturing technology & innovation centre ranging from start-ups to multinationals. This diversified economy is underpinning growth and demand for housing and office space within the city.
Edinburgh has increasingly become a focus for investors, both institutional and individual, as competition and opportunity in the South East of England has led many shrewd investors to consider alternative markets.
This broadening horizon, combined with the strong fundamentals that underpin the Edinburgh economy, have presented a compelling alternative investment opportunity for those looking outside of typical markets. Edinburgh's dynamic and diversified role as a financial, education, innovation, technology and political centre that offers a high quality of life to a young, highly educated and high earning workforce, provides a strong economic underpinning for housing demand in the city.
With UK property outperforming other asset classes over the longer term the sector offers an attractive place in which to invest. Within the UK Edinburgh offers a prime UK market at a lower capital requirement than the likes of London, with improved returns, especially as rental demand has been growing within the city both due to demographic changes as well as undersupply within the city from a decade of supressed housing delivery as a result of the Global Financial Crisis.
The attractiveness of Edinburgh as an investment location is not only due to its position as a prime UK residential location, but a number of other factors set it apart within the UK market. The economic diversity of the city is a major pull factor for both employment and investors.
Edinburgh offers a prime UK investment without the capital requirement of London
Comparison of Average House Price against Average Rent by UK City (2020)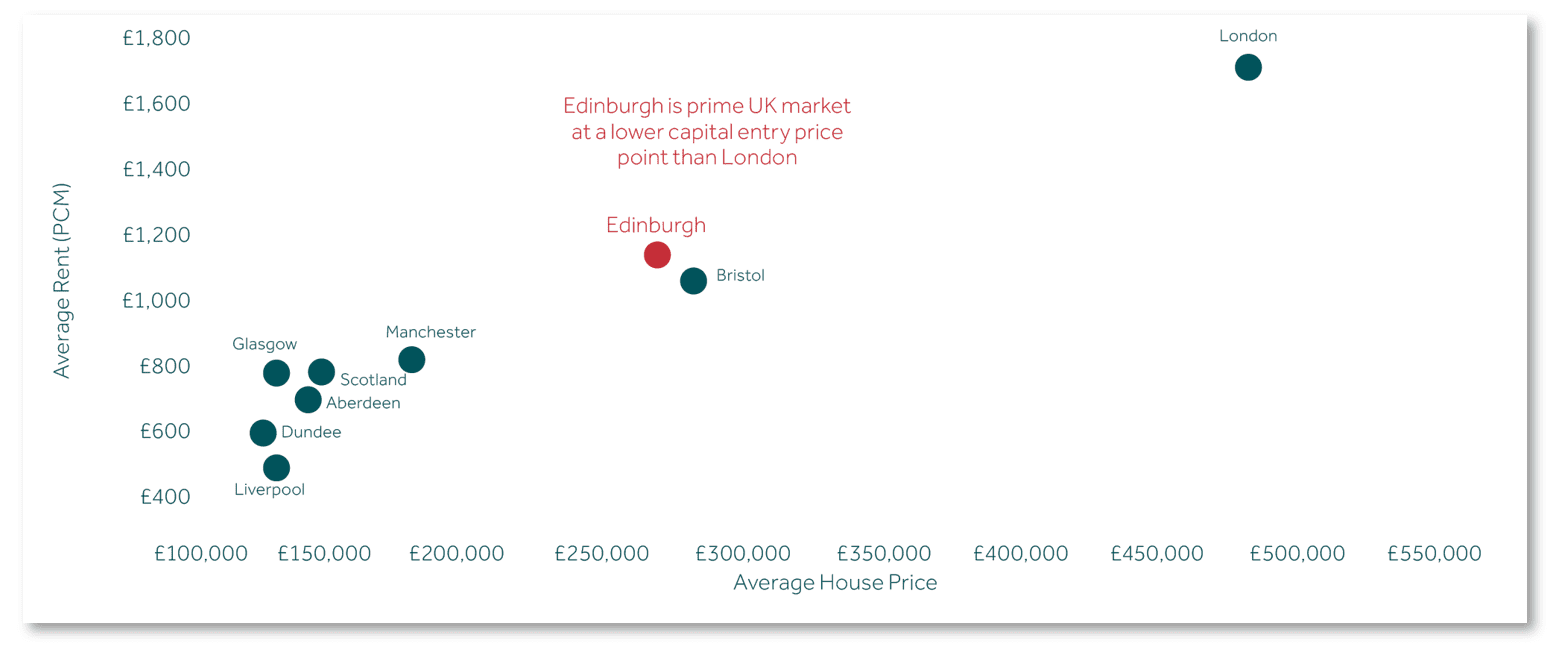 DEVELOPERS
∙ The St James Quarter, Edinburgh development is by Nuveen Real Estate.
∙ The residential element of this, New Eidyn, is a development by Edinburgh St James Residential Building Company Limited, which is the vendor for the apartments.
∙ Edinburgh St James Residential Building Company Limited is a joint venture between Nuveen Real Estate, Dutch fund manager APG and Queensbury Properties (a joint venture between Buccleuch Property and Cruden Homes).
∙ Native Land is one of London's leading developers, renowned for its expertise in delivering the highest quality residential, mixed-use and commercial buildings across prime central London, including the Stirling Prize shortlisted NEO Bankside, Burlington Gate in Mayfair and Holland Park Villas in Kensington.
Event details:
Date:
October 2 - 4, Friday to Sunday, 10am-6pm
Venue:
JLL Office, Paya Lebar Quarter Tower 2, Level 10,  1 Paya Lebar Link, Singapore 408533