Submitted by

olmchina

on Wed, 06/19/2019 - 14:43
For those in the know, Portugal has been generating superb investment and lifestyle opportunities in recent years. Portugal just may be Europe's "best kept secret".
High quality of life, tax benefits, property price growth, the Golden Visa programme, vibrant tourism industry - all of the above makes investing in Portugal an attractive proposition for adventurous Singaporeans look to explore new markets.
Don't miss out on this unique moment to invest in this exciting market.
Find out more on 14-14 July
Join our seminar at 3pm on both days
Individual consultations between 11am - 7pm
Topics we will cover:
1. Why invest in Portugal: Lisbon and Porto (Filippo Simonato)
2. Selected projects in Lisbon and Porto (Rita Bueri)
3. Why Portugal has the best Golden Visa programme (Filipa Rodrigues Oliveira EDGE Lawyers)
4. Q&A session
We'll explain more about the opportunities on offer and what you can expect from investing in Portugal.
Whether you're an experienced investor or you're simply looking at options for overseas investment for the first time, we'll walk you through what's involved; and our property specialists can answer all your questions.
Registration is now open. Please register to secure your seat!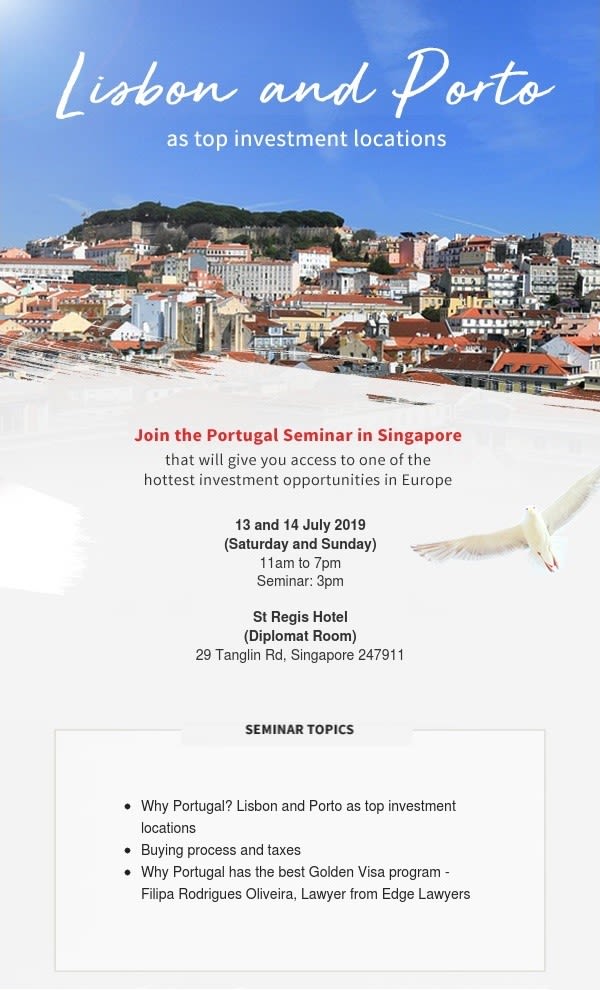 Event details:
Venue:
St Regis Hotel, Singapore