Submitted by

olmchina

on Thu, 07/11/2019 - 13:12
Since the announcement that Osaka will host the World Expo in 2025, the city is now at a better position to invite the first integrated resort with casino in Japan. 
Find out what this would mean for residential investors as Osaka dreams big for World Expo 2025 & Casino plans 
Join our Seminar on Wednesday, 31 July 
Top four reasons why you should attend:
1. Hear industry-leading insights: 
Learn more about the top CASINO project and upcoming WORLD EXPO 2025 and what it means for property investors
2. Learn more about the market situation: 
Hear the latest Osaka Market Overview with focus on the UMEDA area
3. Get access to the latest investment opportunities: 
Have a free one-to-one consultations with our Japanese experts
4. Investor Q&A session: 
Discuss the best buy-to-let strategies, potential ROI, yields and buying processes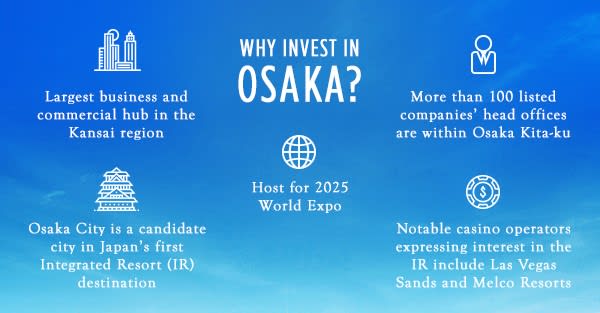 DID YOU KNOW:
✔ Umeda is the center of Osaka and also Kansai region, the 2nd largest economic area in Japan after Tokyo Metropolitan Area. Kansai region's gross regional product (GRP) is as large as the GDP of Netherland while Osaka City's GRP is as large as New Zealand.
✔ Established as the CBD of Osaka, Umeda has many more outstanding regeneration projects in the pipeline as compared to many other areas of Japan.
✔ Umeda North Yard, also know as, "Umekita" will be the final phase of regeneration with the land size of approximately 484,000 sq.ft. This integrated redevelopment masterplan includes commercial, residential, green park, MICE, hotel and a new station connecting to Kansai International Airport.
✔ According to the survey by Tokyo Kantei, the condominium price in Osaka has appreciated by 20% in the last 5 years compared to 28% for Tokyo.  You would be interested to also know that the price of condominiums in Osaka is still approximately 60% of the ones in Tokyo although the GRP growth in 2016 was higher than Tokyo, reported by Economic and Social Research Institute.
✔ As the income per head is increasing in Osaka, the condominium rent has increased by 10% in the last 5 years.
Event details:
Date:
31 July 2019 (6.30pm-9.00pm)
Venue:
JLL Office, Republic Plaza