Home to the Scottish Enlightenment during the 18th Century, Edinburgh is one of the most beautiful cities in the British Isles.
Its architecture includes a jumble of medieval tenements along the Royal Mile, as well as neoclassical facades that characterise its New Town section. The entire city is crowned by the craggy Castle Rock where Edinburgh Castle overlooks the sprawling historic city.
Today, the city is attracting more than the usual arts festival attendees and throngs of tourists.
In the wake of uncertainty caused by Brexit and the flat growth of property prices in Central London, investors are turning to up and coming hotspots in other UK cities such as Edinburgh.
Location
Edinburgh has long been a centre of education, particularly in the fields of medicine, law, literature, and engineering.
The University of Edinburgh is one of the most prestigious academic institutions in the UK and was ranked 20th worldwide in the 2020 QS World University Rankings.
Close to 32% of the student population are international students, and the top five overseas nationalities represented are China, the USA, Germany, Canada, and Italy.
Singaporean students make up the 14th largest international student population.
Edinburgh is also the second-largest financial centre in the United Kingdom after London.
The cultural city is also the second most popular tourist destination in the country, attracting on average more than 1.75 million overseas visitors over the last three years.
The city has long been touted as a highly desirable place to live, especially given its low crime rate, vibrant financial services sector, and top-notch health care.
The city also prides itself in the provision of green spaces, which cover close to 28% of the urban landscape.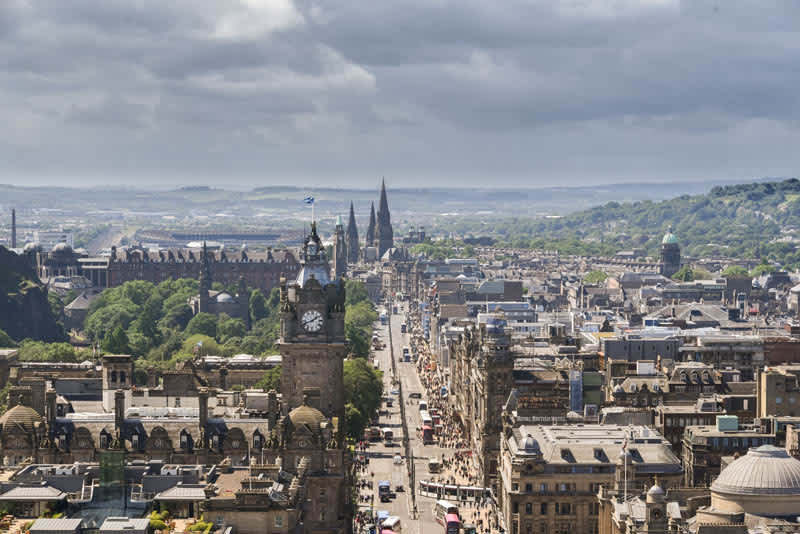 Rejuvenation
Meanwhile, a major rejuvenation project called Edinburgh St James is occurring in the Edinburgh's East End.
The £850 million project is developed by Nuveen Real Estate and is set to open in phases from 2Q 2020.
Spanning 1.7 million sq ft, Edinburgh St James will comprise 850,000 sq ft of new retail space, up to 30 F&B businesses, a cinema and a 244-room W Hotel.
There will also be a residential component with 152 premium apartment units.
Multrees Walk, the gateway to Edinburgh St James, houses designer brands such as Burberry, Louis Vuitton, and Max Mara, as well as the iconic luxury British department store Harvey Nichols.
More than 80 of the world's best retail brands from boutique to designer names will also be found at Edinburgh St James.
The landmark development is also attracting new retail stores such as New Look, Hackett, Next, Bershka, Stradivarious, and Waitrose. Fashion giant Zara is also set to open a new regional flagship store there, while Mango will open its first-ever outlet in the city.
The mixed-use development is expected to turn that side of the city into a new retail and tourist hotspot, and will likely have knock-on benefits to surrounding areas such as Princes and George Streets, the Royal Mile, and other nearby parts of the city.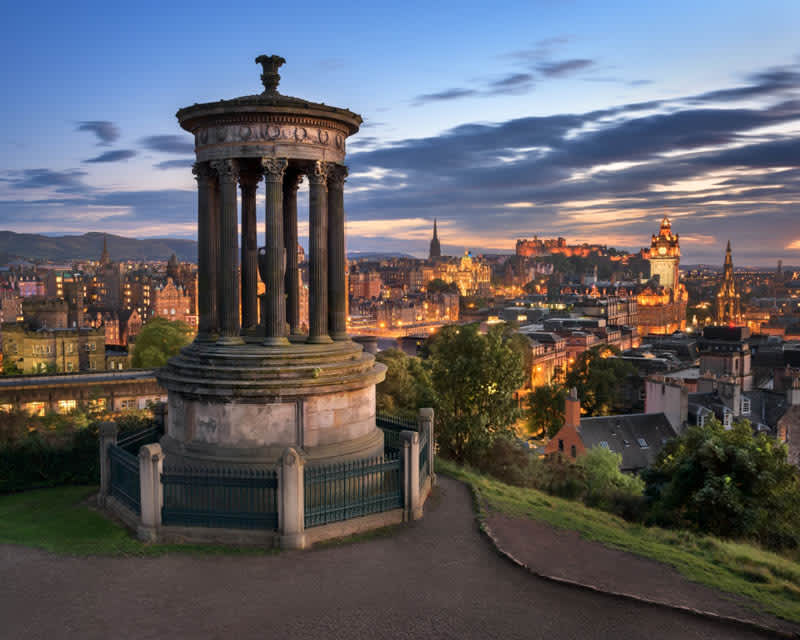 Demand
The high liveability of the city also means that housing in the city is in high demand, especially given the relatively high portion of young people living in the city.
According to a research paper by Jones Lang Lasalle published in Feb 2019, a third of Edinburgh's population is aged 15 to 34, compared to 25% across the UK.
In addition, close to 11% of the city's population work in typically higher-earning financial and insurance sectors. Meanwhile, average household incomes are higher than the UK average, with 55% of Edinburgh households earning above £40,000 per annum, compared to 45% of households across the UK.
Students, young professionals, families, and retirees all contribute to the overall rental demand and the diverse profile of renters makes the city all the more appealing to investors.
JLL notes that a quarter of homes in Edinburgh are privately rented compared to the UK average of 16%. The vast majority of rental stock in Edinburgh is also owned by buy-to-let investors.
Sale Price
Last year, the average sale price of a typical two-bedroom unit in a new development in Edinburgh's city centre was £285,000, which translates to an increase of 2.5% y-o-y.
In terms of rents so far this year, a similar unit type in a new development commands close to £1,000 per calendar month (pcm), which reflects an increase of 3.1% y-o-y.
On the back of a critical shortfall in housing supply, JLL expects Edinburgh to be one of the top-performing residential markets in the United Kingdom over the next five years.
This year, only two new schemes are expected to be completed. They are Artisan Real Estate Investors' 244-unit New Waverley and Campus Development Management's 32-unit King's Quarter.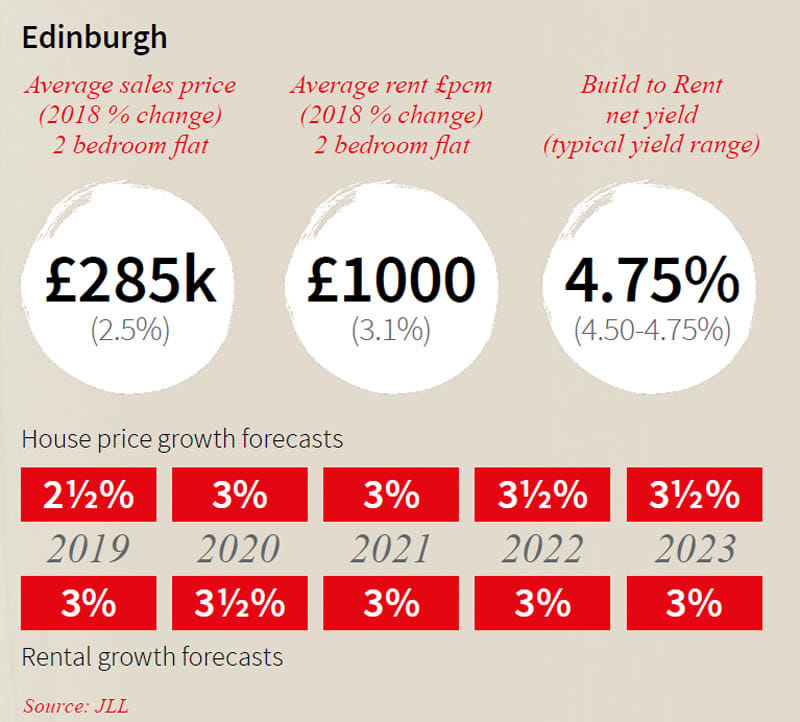 Buy to Rent
But JLL notes that there is a lack of purpose-built private rental stock in the residential development pipeline, especially given the high proportion of renters in the city.
For now, the planning pipeline only features two new purpose-built rental schemes totalling 780 units.
They are Moda/Apache's 337-unit Springside and EDI's 434-unit India Quay scheme. Both schemes have received planning permission but neither site has begun development yet. The lack of modern, purpose-built new developments means that discerning renters looking for high-quality rental apartments are underserved.
Thus, JLL expects the average price and the average rental growth in Edinburgh to increase by 3.1% per annum, well above the UK-wide forecast of 2.2% per annum price growth and 2.4% per annum rental growth.
For more information on investing in Edinburgh, please contact JLL International Residential
at +65 9671 9583 or internationalresi@ap.jll.com
Research: Scotland Residential Forecast Feb 2019