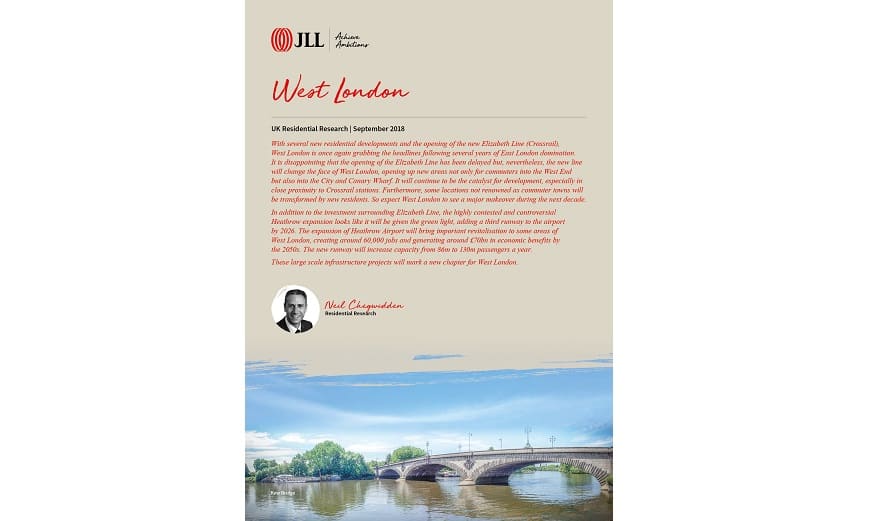 With several new residential developments and the opening of the new Elizabeth Line, interest in West London is once again on the rise, following several years of East London domination.
While the opening of the Elizabeth Line (Crossrail) has been delayed, the new transport options will nevertheless change the face of West London, opening up new areas not only for commuters into the West End but also into the City and Canary Wharf.
It will continue to be the catalyst for development, especially in close proximity to Crossrail stations. Furthermore, some locations not renowned as commuter towns will be transformed by new residents. So expect West London to see a major makeover during the next decade. 
In addition to Crossrail, it looks like the Heathrow expansion will be given the green light, adding a third runway to the airport by 2026.
The expansion of Heathrow Airport will bring important revitalisation to some areas of West London, creating around 60,000 jobs and generating around £70bn in economic benefits by the 2050s. The new runway will increase capacity from 86m to 130m passengers a year. 
These large scale infrastructure projects will mark a new chapter for West London.
Highlights include:
• Acton has been a buzz of development activity in recent years, with 1,425 unit completions since 2014
• Brentford and Kew Bridge have the most units currently under construction in West London with 1,265 units underway
• Ealing will benefit from the opening of the Elizabeth Line and is currently at the top end of new build pricing in West London, with properties reaching up to £1000 psf. 
• Hayes & Harlington and Southall, positioned to the northeast of Heathrow, will benefit from the Elizabeth Line, with the area being host to the most extensive planning pipeline in West London
• West Drayton and Drayton Gardens, one of the westernmost villages in London, has seen significant residential development, with 1,141 completions over the past 5 years
• Uxbridge has seen a surge of residential development activity in recent years, with 628 units currently in the planning pipeline. 
If you have any questions on this research or anything else that you'd like us to clarify, please feel free to get in touch with us directly at +6562203888