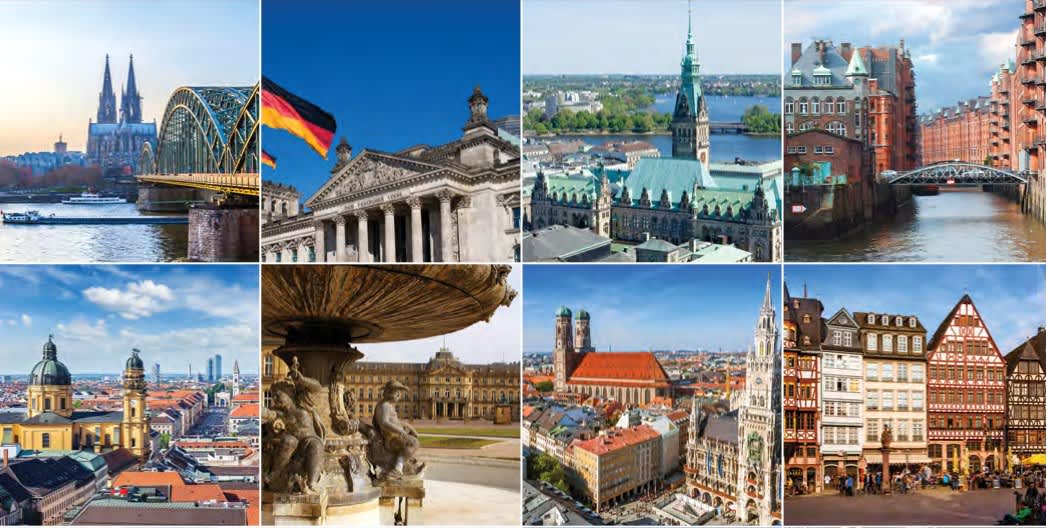 Traditionally, Germany has not been a priority market for Singaporean overseas property investors. Most Singaporeans usually look at the UK, Australia and the US when it comes to purchasing a second home or an investment property overseas.
However, in the space of the last few years, more and more discerning investors have been increasingly looking at other countries such as Germany, as they look to diversify their property portfolios and mitigate risk.
With the current uncertainties in the world, such as the sentiments around Brexit and the ongoing trade issues between the US and China, many investors in Asia are naturally looking towards less volatile, safe haven markets to invest in.
✔ Germany has the largest and most stable economy in Europe accounting for 20% GDP of the EU, and fundamentally provides an exciting backdrop for real estate investment.
✔ Germany is one of most politically stable countries in the world, with a strong government that aims to promote continuity, stability and sustained growth in the country.
✔ Germany has a well-established housing market which offers attractive returns with lower risks. A PricewaterhouseCoopers (PwC) survey titled 'Emerging Trends in Real Estate Europe 2018' named the German capital, Berlin, as 'the most desirable city by investors' for the fourth consecutive year.
✔ Along with Berlin, three other German cities - Frankfurt, Hamburg and Munich - were ranked within the top ten most desirable cities in the world to live in.
So let's have a closer look at why Germany is probably one of the most attractive places in Europe to consider investing in right now!
Is it a safe investment?
With the highest GDP and the largest population in Europe, Germany boasts a well-established market with a diverse, highly developed economic, cultural and social framework.
The 'Made in Germany' label is well-known for the highest quality. Together with the US and China, Germany is one of the world's top three exporting countries, making it a favourite destination for international investors. And, because of its progressive educational, work and social policies, Germany has one of the lowest unemployment rates in the world.
Property values in Berlin have increased over the past 18 months, generating €9 billion in property deals in the first three quarters of 2017 alone, making this country Europe's second most active market after London.
Why has there been a recent increase in interest in properties in Germany? There are many reasons, including the current political and social changes that are now sweeping across Europe.
Is the growth sustainable?
There is usually a shortage of suitable properties in Germany. Germany's strict housing policies only allow a limited number of new-build constructions each year, contributing to the restriction of the housing supply. This prevents speculative developments, like in many other areas around the world, which tend to drive prices downward.
Although there has been a dramatic increase in property purchase prices and rental rates, especially in cities like Berlin, industry watchers believe that this growth is sustainable due to good management practices in place, as well as a strong focus on the renovation of existing properties.
What about urban infrastructure?
With a high number of established, historic cities and urban areas - more than 70 German cities have more than 100,000 inhabitants each - the country has a great infrastructure, an important consideration when it comes to the attractiveness of a location.
German cities offer a holistic mix of residential and commercial areas, pleasant public spaces and highly efficient transport, resulting in a quality of life that is one of the best and safest in the world.
The search for a good work-play balance is shaping many cities and urban areas in Europe. The boundaries between work and lifestyle are increasingly overlapping, but German cities are well-poised to embrace these changes for future generations.
Can my kids study in German universities for free?
Buying an overseas property is both a great investment and a way to provide the comforts of home to children studying in university. German people believe education should be free. Therefore, many public universities in Germany offer tuition-free university education for both domestic and international students. More and more Singaporean parents are choosing to send their children to study in German universities, which are ranked as some of the best and most prestigious in the world.
For example, Munich's Ludwig Maximilian University, founded in 1472, is one of Europe's best research universities, with 34 Nobel laureates associated with it. In Heidelberg, the University of Heidelberg has been associated with at least 33 Nobel prize winners, and is one of the most popular universities in Germany for foreign students. It has a student population from at least 130 countries worldwide.
Its progressive educational policies and quality vocational training has resulted in Germany having one of the lowest unemployment rates in Europe and the world, as well as having a highly skilled workforce that will continue to drive its vibrant economy.
How about long term visas for non-EU nationals?
To further drive the German economy, the German Residence Act allows qualified foreign investors and entrepreneurs to obtain long-term 'D' visas and temporary two- or three-year visas, which can be prolonged into permanent residence status with a minimum investment of €200,000 to 250,000 (2017) in the country.
Family members of visa holders also get residency status in Germany, and can also qualify for German citizenship after eight years' residency in the country.  Germany is also a member of the EU, which allows its citizens and residents free trade and passport-free movement between its 28 member states.
Thus, buying in a property in Germany is not only one of the best investment decisions a Singaporean investor can make in terms of long-term returns, but it also opens up the doors  for you and your children to be able to live and work freely in any country in Europe as well!
So as you can see, there are many reasons to invest in German properties right now. Where do you start? As with any investment, the best approach is to do your research, and get as much relevant information as possible before you make any decisions. Read our Investment Guide or talk to a real estate professional who specialises in overseas property investments, and they can guide you in making the best decisions for yourself and your family.
View investment properties in Germany
Schedule a meeting with our real estate agent here
For further information please contact JLL International Residential directly at +65 6220 3888 or internationalresi@ap.jll.com