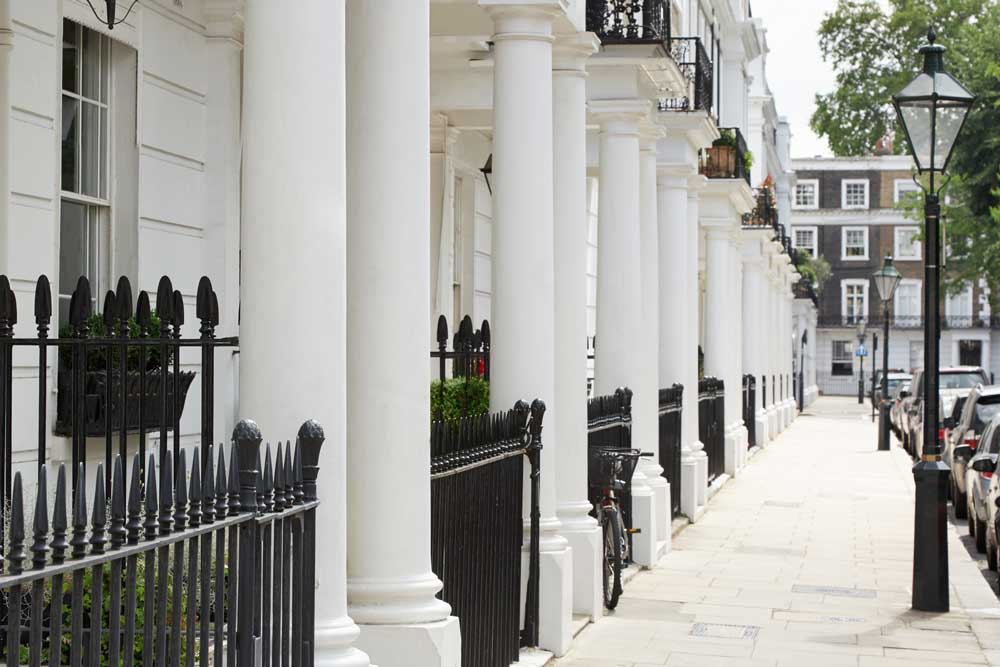 The central London borough of Kensington and Chelsea sits at the cultural heart of London. But it's also a prime residential area, known the world over and highly sought-after by property buyers.
Kensington is particularly well-loved for its royal connections, its sense of romance, and its top-notch dining, entertainment, and shopping venues.
Everything in Kensington comes with a healthy splattering of style and elegance - and that's why you may want to know more about the Royal Warwick Square development.
It could be the opportunity you've been looking for to claim a small part of Kensington as your own.
But first, more about why this location is so prized…
Why we love Kensington?
The Jones Lang LaSalle team in London recommends the following dining and drinking venues in Kensington:
Restaurants
• Maggie Jones's - a rustic take on British food
• Kitchen W8 - Michelin-starred restaurant serving modern European cuisine
• Aubaine - Relaxed, French-style dining
• Kensington Place - modern British brasserie specialising in fresh fish
Pubs & Bars
• The Churchill Arms - a traditional pub once frequented by Churchill's grandparents
• The Kensington Roof Gardens - boasting three gardens, ideal for special events
• Kensington Wine Rooms – A stylish bar for wine lovers 
Cafes
• Café Phillies - a non-chain restaurant on Kensington High St.
Why others love Kensington?
Foreign buyers and investors have long fallen for the cosmopolitan lifestyle, scenic surrounds, and cultural landmarks that gives the Kensington area its unique 'stamp'.
With some of London's most famous museums, parks, concert halls, and educational establishments in the vicinity, the affluent surroundings have become a cultural and leisure hub of London.
London landmarks like Kensington Palace, the Royal Albert Hall, the Victoria and Albert Museum, and the Natural History Museum are all nearby, as are Hyde Park, Holland Park, and Kensington Gardens.
Reputable universities like Imperial College London and top primary and secondary schools attract both local and international students; and families moving to Kensington appreciate the variety of supermarkets, delicatessens and speciality food shops.
For younger residents, lively coffee shops, an array of fine dining outlets (including three Michelin-starred restaurants), and upmarket pubs all whet the appetite.
Elegance and tranquillity inside, outside and around
An 11-minute walk away from Harrods in the heart of all this is Royal Warwick Square.
Here, the style, elegance and tranquillity of the Kensington area is translated to the interiors and exteriors of this new development.
With the design expertise of award-winning architects, Squire & Partners, the garden square design is the first thing that will inspire you.
But it's probably the apartments, designed for luxurious style and comfort, that will win you over.
Whether you're thinking of an investment property for rental income, your child is studying in London or you're investing in a holiday home, the combination of luxury and elegance - inside, outside and around Royal Warwick Square - is difficult to ignore.
Modern luxury meets classical design
Royal Warwick Square is semi-classical to the eye with its landscaped courtyard gardens at its centre. But there is a distinctly contemporary feel to the building design and its luxurious facilities.
Leisure facilities include a state-of-the-art gym, spa, sauna and steam rooms, and an indoor swimming pool with vitality pool on site. There is even a private cinema available.
Security is high and a children's play area is available. There is also secure underground parking with motorcycle bays and cycle racks, as well as ample storage facilities.
A 24-hour concierge service provided by Harrods Estates ensures you feel like you're holidaying in a hotel when resident here.
Each apartment has floor-to-ceiling windows, helping you bathe in natural light and enjoy the views around the courtyard or over London.
Be connected to the whole of London and beyond
While there is plenty to enjoy simply walking around the neighbourhood, excellent transport links connect you to the rest of London and beyond.
The tube is accessible on foot from both the High Street Kensington and Earl's Court stations. These provide connections to the new Crossrail station at Paddington.
Journeys beyond London are facilitated by convenient access to cross-continental Eurostar services from St Pancras International station.
Flight access is 30 minutes away at Heathrow Airport and a little longer at Gatwick, making international travel convenient too.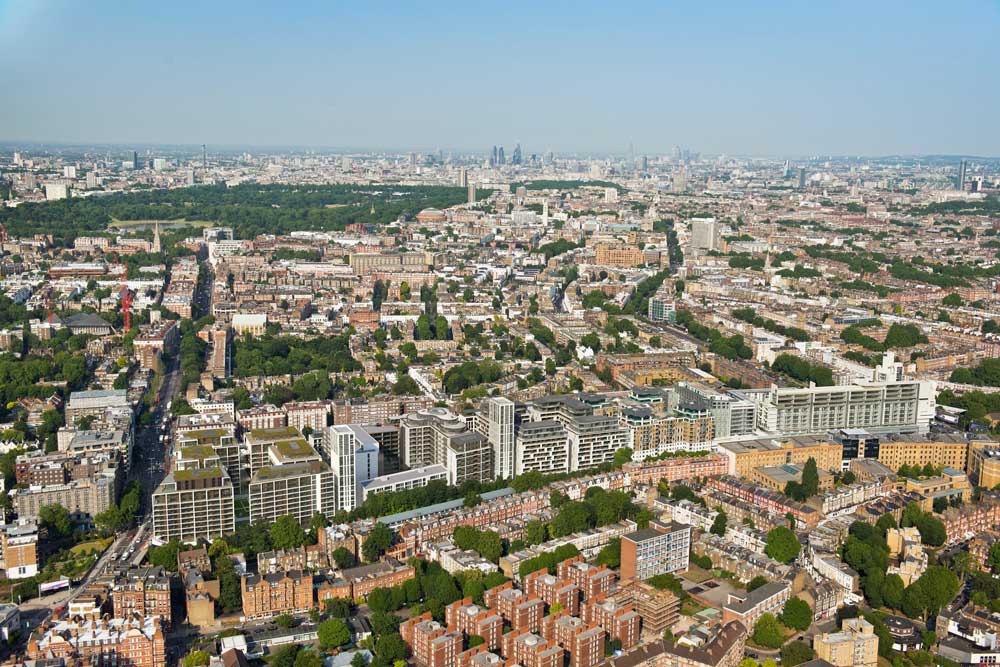 The development
Royal Warwick Square is being developed by St Edward Homes. It is a joint venture between UK property developer Berkeley and the Prudential Assurance Company.
The Warwick Road Masterplan is a regeneration plan involving the creation of more than 1,000 homes, a new school and landscaping across seven acres of prime Zone 1 real estate in Kensington and Chelsea.
Royal Warwick Square is part of this regeneration plan and Sherrin House was the first phase of development. Maclaren House is the second phase.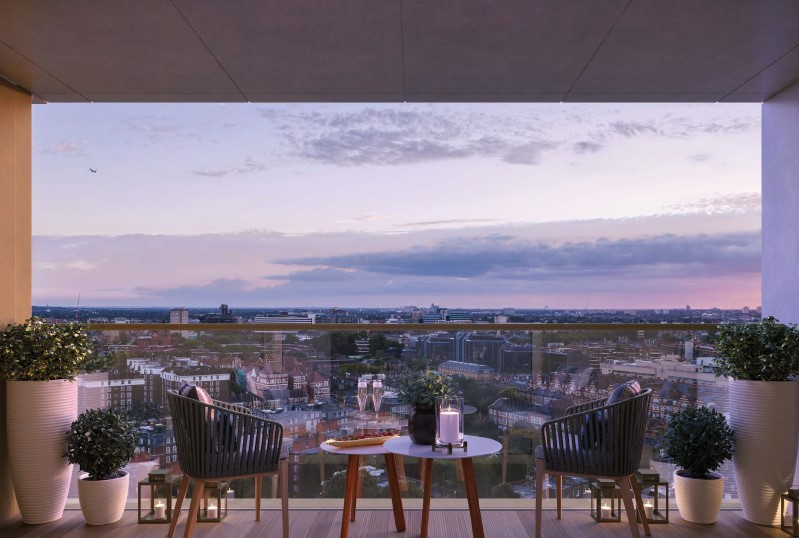 Your opportunity for an enviable London address
Due for completion in the first or second quarter of 2021, we're taking expressions of interest in the remaining apartments available in Royal Warwick Square.
These one, two, and three bedroom apartments range in price from £1.08 million to £4.6 million.
For more information about Royal Warwick Square and other residential properties in London, call +65 6220 3888 or email internationalresi@ap.jll.com