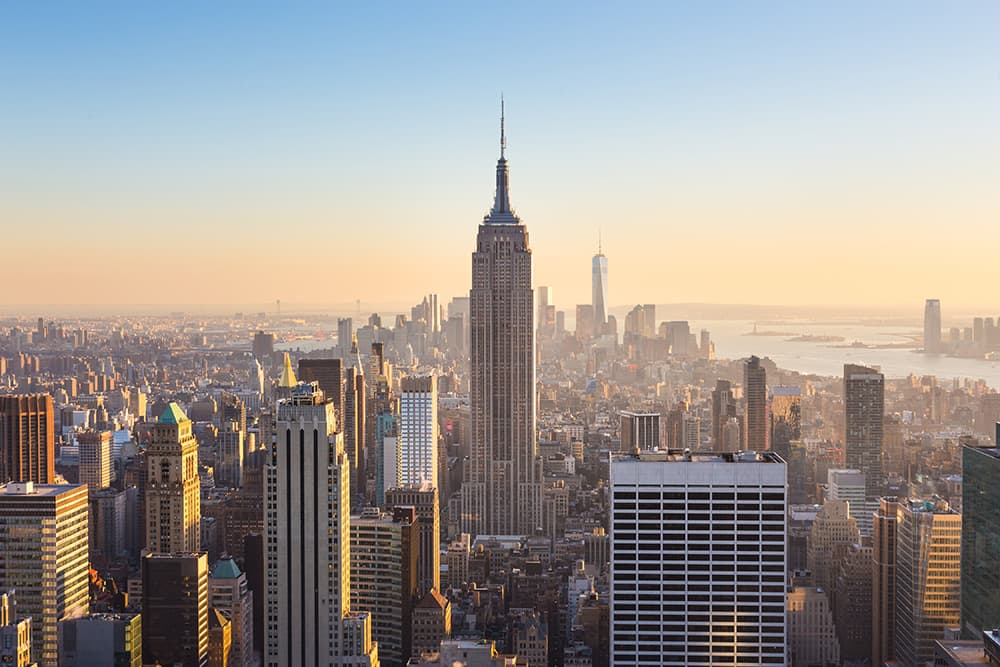 Cultural trendsetter. Architectural darling. Shopping and dining capital. New York City is more than just a financial gateway city in the US, and the city wears many crowns on its already illustrious head.
New York is an urban spectacle that draws in scores of new residents. Many property investors have also attempted to grab real estate in the city for their own holiday home, or to add to their investment portfolio.
While high inventory and low average property prices have weighed down New York's residential property market over the past few years, last quarter saw more deals closing when price expectations between buyers and sellers match up.
Buoyed by firmer macroeconomic forecasts for 2020 and traditionally strong market fundamentals supporting New York residential real estate, next year could turn into a buyers' market for some property investors.
According to the 3Q2019 Corcoran Report, the latest real estate statistics for Manhattan show that completed deals fell 4% y-o-y last quarter to 3,146 closed deals.
It is the lowest 3Q performance in Manhattan since 2009. This decline resulted from a 13% drop in resale condo sales, while the average price dropped 13% to a five-year low of US$1.653 million.
However, the showing last quarter is likely an anomaly as the market rushed to close high-net worth deals before the implementation of revised state mansion and transfer tax changes in July this year, says Pamela Liebman, CEO of The Corcoran Group, which published the report.
Prior to the change, a supplemental tax of 1% of the purchase price of a home valued at more than US$1 million was implemented.
However the tax rate now increases incrementally, with homes valued at more than US$2 million now subject to a 1.25% tax, while properties valued at more than $25 million could be taxed as much as 3.9%.
The Corcoran Report also shows that overall inventory increased by 3% y-o-y and is the smallest percentage increase since 2017.
Meanwhile, average price per square foot fell 4% y-o-y to US$1,618 psf, as a result of fewer sales of properties worth more than US$2 million, especially in prime locations, on the back of the new tax rates.
However, new development sales improved 2% y-o-y to more than 383 closed deals in 3Q2019.
Sponsor closings have also increased on an annual basis for three consecutive quarters, a trend which last occurred in 2016 when the number of new development sales reached its post-recession peak.
Most new project sales occurred in the Downtown area at developments such as One Manhattan Square and Fifteen Hudson Yards.
Most of the inventory entering the New York residential market have been located in relatively more expensive submarkets, including the East Side, West Side, Downtown, and Midtown locales.
While active listings in least-expensive submarkets such as Upper Manhattan, the Financial District, and Battery Park City declined by single digits y-o-y.
According to Rob McRitchie, senior vice-president of development and asset strategy, JLL Capital Markets Americas, the mixture of low average psf price and high inventory presents a buying opportunity for investors.
"In New York City, when supply outpaces demand, developers tend to give bigger discounts to unload excess inventory. The long term value of real estate in New York City should outpace short term oversupply and should result in a favourable buying opportunity."
There are also signs that property markets in some outlining neighbourhoods could experience a recovery before the Manhattan area.
This includes areas such as Brooklyn, Long Island City, and New Jersey, which tend to have less available inventory, relatively lower price points that encourage affordability, as well as lower taxes, he says, adding that within Manhattan, the Midtown and Downtown areas have also recorded a smaller slide in property values.
Looking ahead, he notes that condo units priced higher than US$2 mil are likely to attract the most developer discounts, these units are also subject to bigger property taxes that could affect their return on investment. However, areas in the upper West Side have so far seen the biggest drop in pricing, he says.
Find out how you could capitalise on this real estate opportunity at JLL's upcoming US Investment Seminar. Rob McRitchie will present on several topics, including, the US economic outlook, a market summary of New York City, and selected JLL project highlights in 2020.
Date: 12th November 2019, Tueday
Time: 6pm – 9pm
Venue: JLL's new office at Paya Lebar Quarter Tower 2, Level 10. 1 Paya Lebar Link, Singapore 408533
Register now: https://internationalresidential.jll.com.sg/event-calendar/12/nov/2019/us-investment-seminar