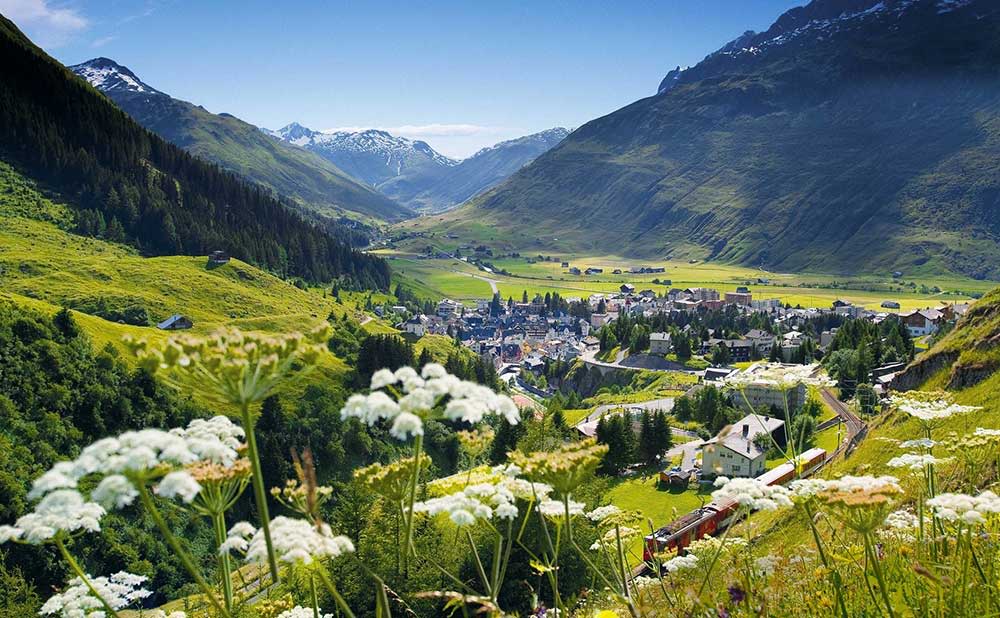 Have you ever wished of having a small hideout in the Swiss Alps? Here is an opportunity.
Under Swiss Federal Law, known locally as "Lex Koller", international buyers need to get a special permit if they want to buy a property in Switzerland.
However, Holiday Village Andermatt Reuss is an exception. In 2006, the Swiss government ruled to exempt the village from Lex Koller. So far, the exemption is only until 2030.
Nestled in the midst of abundant natural beauty, the doors to this historic village in Switzerland are thus open to the world.
People from any nationality can buy a property in Andermatt. No restrictions. No special permission. That's not all. You're also free to rent, transfer or sell your property, as there is no minimum holding period or any inheritance or gift tax.
If you're already feeling drawn to the offer and trying to imagine what awaits you, here is your window to heaven on earth – Andermatt – quintessentially Switzerland.
Popular among skiers and golfers, Andermatt is set in the Mediterranean ambiance in the Canton of Uri region. Surrounded by snow-capped mountains of Gotthard glaciers, the village sits at an altitude of 1,400 metres above sea level.
The picturesque village has preserved its culture and consciously made sustainability the cornerstone for its development.
Biodiversity features
• 52 water features
• 44 species of butterflies
• 24 species of birds
Dull moments in Andermatt? None!
A holiday destination for leisure and sports for over 200 years, Andermatt never has a dull moment. On the contrary, there is a lot to do, especially if you're a nature lover or have a passion for outdoor activities.
During winters, there are options of snowboarding, sledging, tobogganing, ice-skating, ice hockey, biathlon and many such sports. The Ski Arena Andermatt–Sedrun with its 120 kilometres of long and varied pistes, deep descents and cross-country trails is the largest and most modern in Central Switzerland.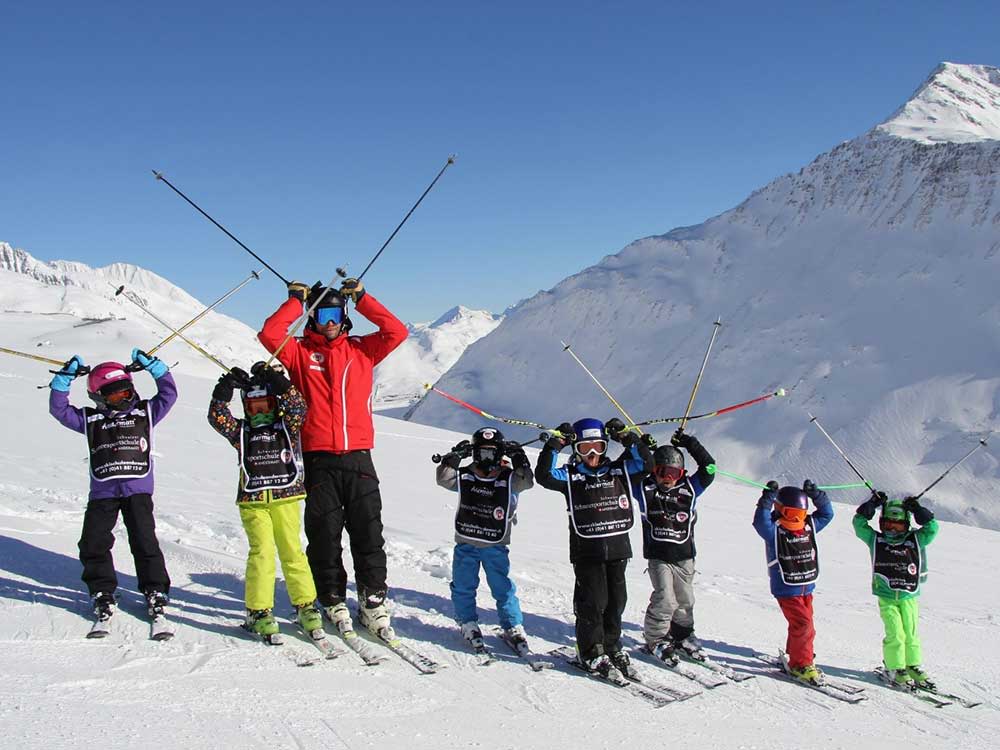 In the less snowy months, you can walk or hike in the region or cycle on narrow cobbled lanes or go fishing in the lake, or simply have a leisurely ride on a historic horse carriage. The village also boasts of having a lush 6,340-metre-long 18-hole Swiss Alps Golf Course.
Looking for adventure? You can go mountain biking through rugged trails or rock climbing.
The village doesn't disappoint anyone.
The inquisitive minds will fall in love with Andermatt instantly.
At the Ursern Valley Museum, you can spend hours turning the pages of history discovering some interesting facts about the region. How the Schollenen Gorge and Gotthard pass became a gateway for people, business, and the war in 1799. How the Gotthard railroad tunnel opened in the 19th century. How Hollywood spotted it as a location for their 1964 James Bond movie Goldfinger, and slowly Andermatt transformed into a commercial and holiday destination.
Ever since then, the village had been on the international tourism map. 
Every year, it draws hundreds of music lovers to the Lucerne Festival – one of the most famous international festivals for classical music, held at the Andermatt Concert Hall. There are round the year open-air theatre performances, art shows, and many other cultural activities that attract the literary world to the village.
Food is an essential part of any culture. Andermatt too is known for its dining culture – local specialties as well as international cuisine.
Quality of life
In fact, Andermatt is all about an enviable lifestyle – culturally rich, healthy due to zero pollution and carefree because of guaranteed safety. The crime rate is considerably low in the region.
Motorised vehicles aren't allowed on the inner roads. But as everything is within walking distance, the air pure and the roads safe, you won't mind stretching your legs. Cars remain parked in the underground car parking with direct access to apartments, hotels, resorts, and chalets.
The village has preserved its heritage even in its construction activities. And it reflects in its architecture that integrates modern designs with the traditional alpine style. Only locally available wood and stones are used in the construction.
As Swiss standards for sustainability are strict, all developers follow that ensuring reduced energy requirements and use only renewable sources for electricity and heat generation. The developers even rejuvenated the River Reuss during construction activities.
Your connection with the world
Considering the quality of life, Andermatt is your natural paradise. But you'll never miss the glamour of the city life with pulsating Milan just two-hour drive away. The village is well connected with the rest of Europe. The nearest airport is Zurich only 90 minutes away by car. You can take a regular train or the Glacier Express through the gorgeous Swiss Alps, or drive through breathtakingly beautiful alpine passes on the way to your destination.
• Zurich – 1.5 hours
• Milan – 2 hours
• Stuttgart and Munich – 4 hours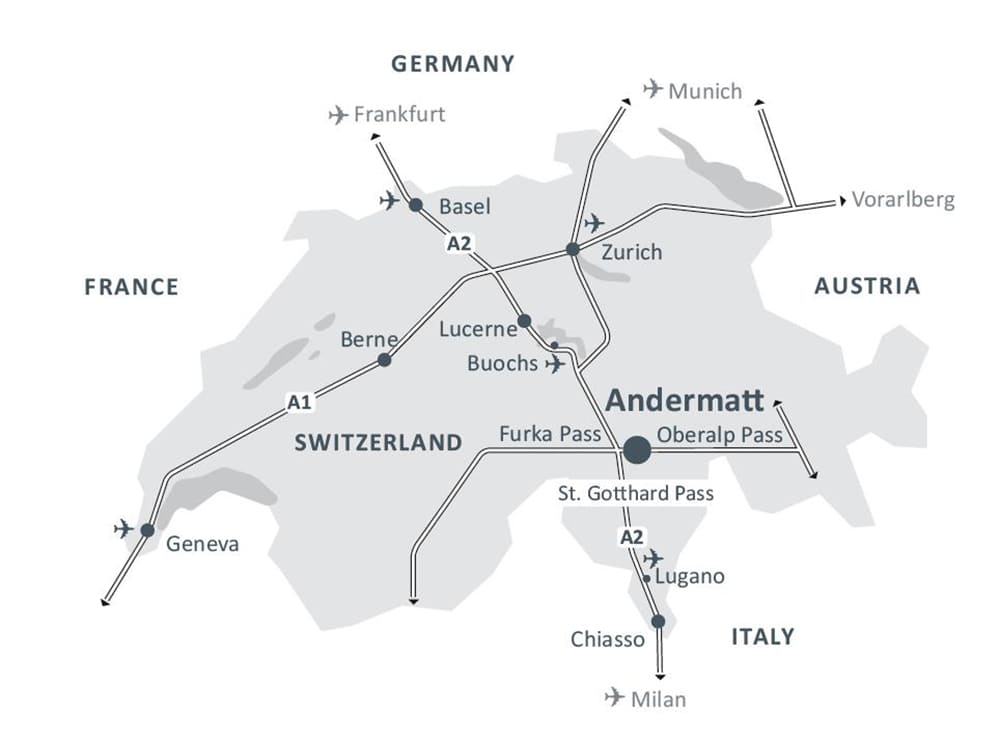 Tourism as a driver of growth
Andermatt is growing increasingly popular as a holiday destination. Accordingly, the demand for holiday rentals is also increasing.
According to Andermatt Swiss Alps AG data, the number of Swiss tourists has increased over the years.
• 2015 – 55,000 domestic tourists
• 2016 – 62,000 domestic tourists
• 2017 – 70,000 domestic tourists
• 2018 – 73,000 domestic tourists
The stability of Switzerland's currency is another attraction drawing people to invest in real estate in this region. Swiss Franc remains in global demand and provides security for capital invested.
Besides, the country has attractive tax policies and is known for high legal security and political stability. According to a KPMG report, the Canton of Uri offers lower corporation tax rates of 14.92% and offers the choice of lump-sum taxation for non-Swiss nationals.
Benefits galore
Normally, the safety of the property and its upkeep remain major concerns of any foreign buyer. But this is not the case, especially if you are buying from the developer Andermatt Swiss Alps AG. They'll help and guide you in every step of the process or may go the extra mile.
You would be surprised when they encourage you to generate income through the property if you don't live there. They offer financial incentives as well as a rental program to rent out the vacant apartment.
Also, if you neither want to stay there nor want to rent out your house, yet wonder who would look after it in your absence, you need not worry. The developer has tailor-made services to offer.
While staying there, you can enjoy the comforts of your home but the luxuries of a hotel.
• Concierge – they will arrange ski instructors, golf lessons or even take care of restaurant reservations
• Housekeeping including laundry service – you don't need to waste time doing mundane chores
• Shopping assistance – in case you're busy in outdoor activities, they will organise your basic needs
If you decide to lock your house and head back home, the developer will look after your property.
• Apartment maintenance – they ensure regular cleaning of your apartment in your absence
There is more:
• 20% discount on a full-day pass to SkiArena
• 20% discount on the green fee for the golf course
• 10% discount on spa treatments in the Chedi Andermatt
As a privileged resident, you also get a Guest Card from Andermatt Tourism Region that allows you to avail a variety of tourist offerings at special terms and rates.
For further information contact JLL International Residential directly at +65 6220 3888 or internationalresi@ap.jll.com.