For those in the know, Portugal has been generating superb investment and lifestyle opportunities in recent years.
While investor appetite for Europe hit a seven-year low in 2019, investors are still talking about Portugal and, in particular, its capital city Lisbon.
Why?
For starters, it was recently ranked the number one city for investment and development in Europe in a Price Waterhouse Cooper report on emerging trends.
Add the attractive investment conditions (growing house prices and rental yields) and the "Golden Visa" initiative for investors looking to make Portugal home, and the city represents a very attractive package.
Let's take a closer look at the key attractions of Lisbon for prospective investors.
Lisbon leading the way
Portugal's capital city, Lisbon, is leading the way as the country's "feel good factor" grows.
A good indicator of this is the city being named in first place on Price Waterhouse Cooper's 2019 Emerging Trends Europe leader board.
This is a measure of the real estate markets in major European cities, according to their overall investment and development prospects.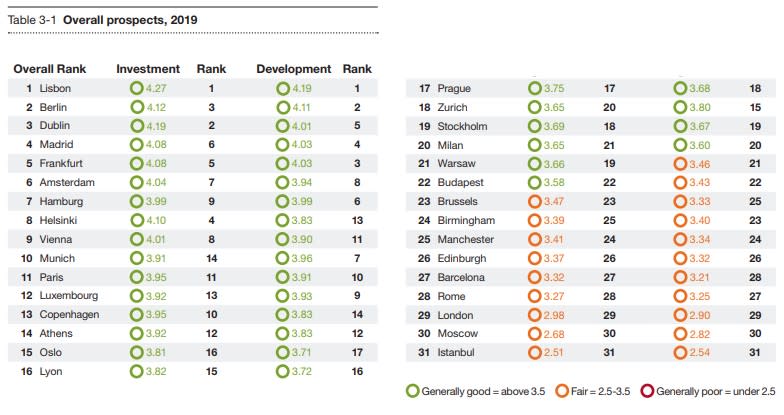 Source: PWC, Emerging Trends Europe survey 2019; Note: Respondents scored cities' prospects on a scale of 1=very poor to 5=excellent and the scores for each city are averages; the overall rank is based on the average of the city's investment and development score.
As you can see, Lisbon left other key investment hubs like Berlin, Copenhagen, Frankfurt, and Dublin in its wake.
The city wasn't even in the top 10 in 2018. So top placement represents quite a leap in its perceived investment prospects. 
The city's high quality of life, comparative low cost of living, solid economy and excellent transportation network have contributed to this, helping to develop its international reputation as a dynamic rising star in Europe.
It is now rapidly competing with the continent's more established cities.
Lisbon's new airport, due to be unveiled in 2022, is expected to serve over 50 million visitors per year and an upgrade to the metro system is under construction, adding to the sense of expectation surrounding the city.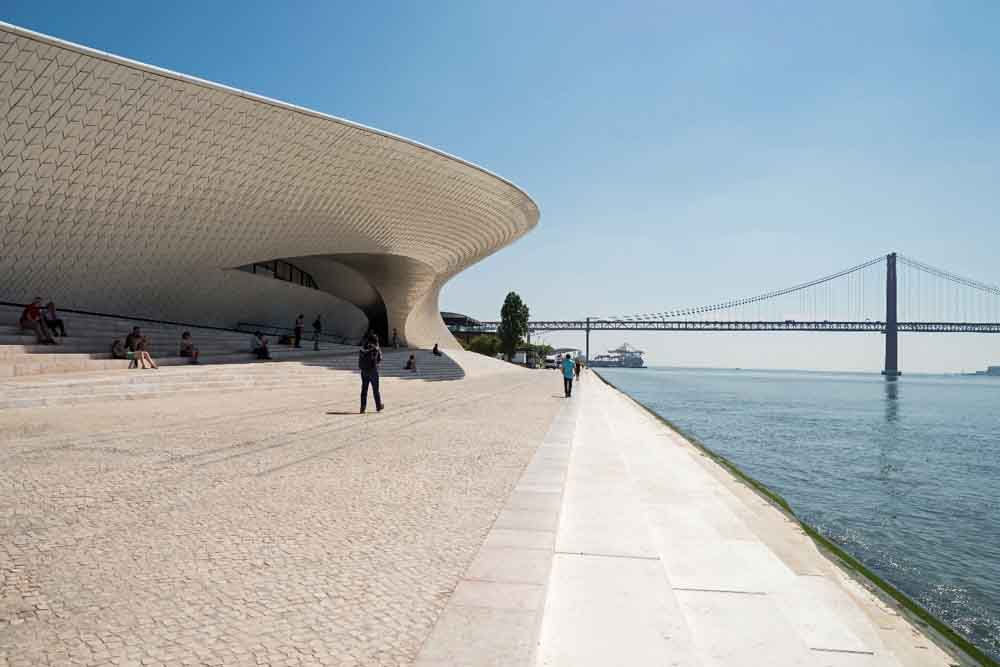 "Golden visas" and tax benefits
Several interesting government initiatives make Lisbon doubly attractive for potential investors.
Firstly, the "golden visa" program grants visas to non-European citizens and their families, and can be obtained through investment in real estate.
To qualify for a golden visa, you need to commit to either:
• Minimum € 500,000 in the acquisition of a property
• Minimum € 350,000 in the acquisition of a property for rehabilitation
Since 2012, this visa has allowed free travel around the Schengen region and the possibility to apply for Portuguese nationality.
Another attraction for overseas investors is the potential tax benefits for non-habitual residents since 2009.
There is a low tax burden, with free remittance of funds, no inheritance or gift tax and no wealth tax in Portugal.
For citizens who decide to establish their tax residency in Portugal and who have not earned income there in the last five years, the benefits vary between complete tax exemption (for pension income, rental income and capital gains) and a flat 20 percent rate on other income earned inside the country.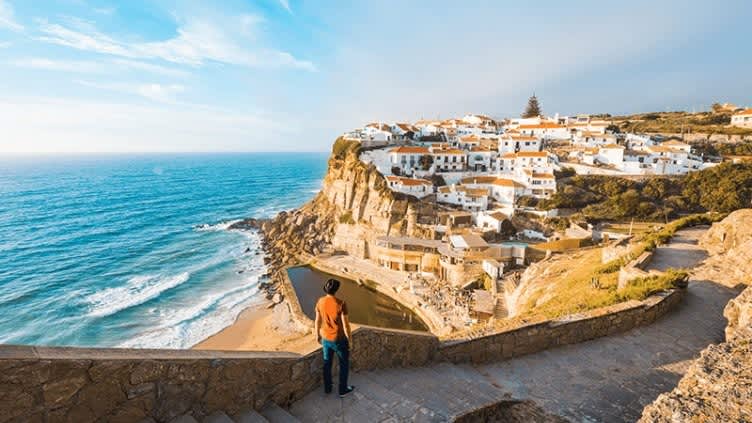 A strengthening real estate market in Lisbon and beyond
Encouraging economic data and the increasing stability of Portugal have produced favourable knock-on effects for the real estate market in Lisbon.
The inherent volatility of capital markets and low interest rates, in particular, have spurred the sector.
JP Morgan observe that real estate is generating better long-term returns compared to other asset classes (bonds and equity):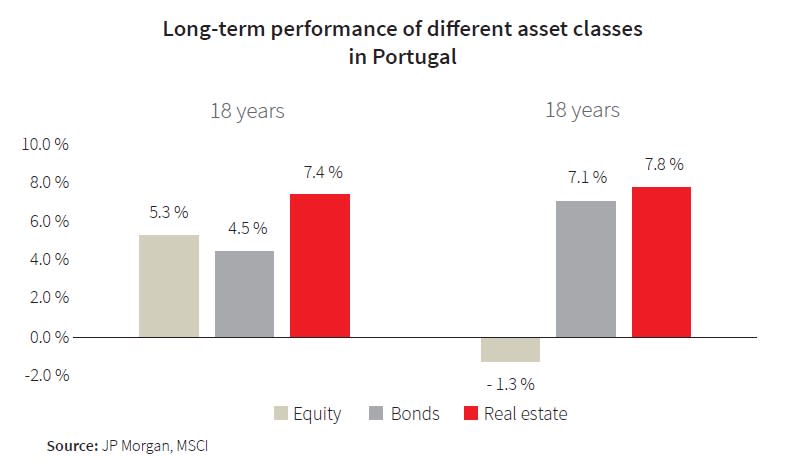 Another excellent sign for the real estate market is that home values are increasing.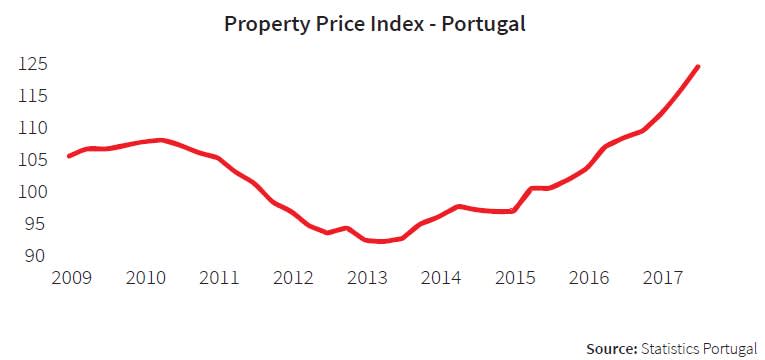 Between 2017 and 2018, houses prices in Portugal increased by 8 percent, according to the National Statistical Institute of Portugal.
Much of the development of new homes in recent years has focused on the higher end of the market and short-term rentals in Lisbon.
At the same time, affordability compared to the rest of Europe is helping Lisbon stand out for property investors.  Prices there are significantly lower than in other European capitals.

According to the 2018 RICS survey, residential prices are expected to continue to grow in the next five years by around 5.5 percent per year on average.
Growing rental yields
The good news for property investors in Lisbon continues when we look at rental yields.
Yields are increasing across all the main markets as demand outstrips supply in office, retail, and residential: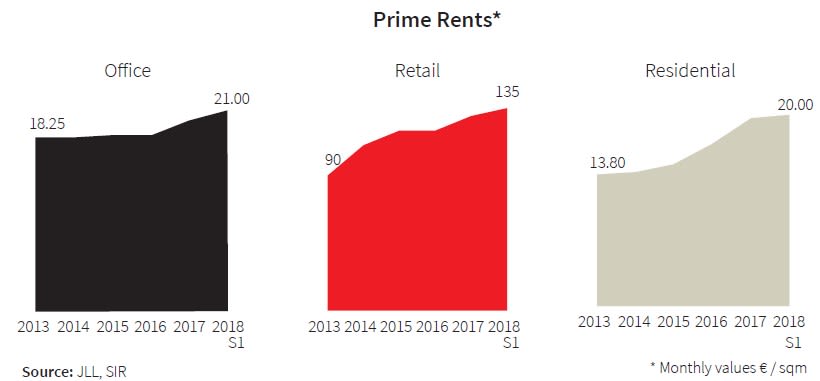 In 2018, for instance, gross residential rental yields in Lisbon grew by 6-8 percent, depending on location (outskirts or city centre).
These increases have been fuelled by increasing demand, particularly in short-term-rentals as tourist numbers rise; and in long-term rentals as international companies are increasingly attracted to what Lisbon has to offer.
A resurgent Portuguese economy
Some Singaporean investors might be thinking "wasn't Portugal struggling just a few years back?"
Around a decade ago, after the Global Financial Crisis, Portugal was classed alongside Ireland, Italy, and Spain as a struggling economy. For five years the country went through a period of readjustment.
That all changed in 2016-17. Since then, there has been a dramatic recovery.
Increased international exposure, new foreign investment projects creating thousands of jobs, and the implementation of expansionary policies to increase liquidity in the financial markets have propelled Portugal into the consciousness of investors everywhere.
According to Ernst & Young:
"Business leaders' assessment of Portugal's attractiveness is changing, with clear signs of stabilization. But while the unusual optimism of the last two years is readjusting, Portugal's attractiveness remains strong and short-term investment plans in the country are among the highest in Europe."
Interest rates are low (1.44 percent in 2018 compared with 5 percent in 2008); Gross Domestic Product (GDP) grew by over 2.1 percent in 2018; and Portugal has exceeded the Eurozone's average GDP for the last four years.
The Bank of Portugal expects the economy to continue expanding at a steady pace in 2019.
Two of the three big rating agencies, Fitch and Standard & Poor's, now place Portugal in the quality investment level.
Increasing stability and competitiveness
Stability now reigns in the Portuguese economy. This combines with the political and social stability that the country has enjoyed for centuries, increasing its attractiveness to investors.
Before the Global Financial Crisis, large investments were made in the country's infrastructure, including the refurbishment and modernization of schools, hospitals and motorways.
This has all helped to make Portugal an increasingly competitive country on the international scene.
The World Economic Forum recently placed Portugal as the 34th most competitive country in the world, up four places from last year.
Leading the way in industry is the technology sector. Portugal has become a top destination for research and development and tech companies. Tourism also plays a key role…
Tourism on the up
Tourism is an important part of the Portuguese economy, contributing 12.2 percent of GDP in 2016.
It's a key job creator that the government looks set to continue promoting. Last year alone, tourism was responsible for creating over 50,000 jobs.
As most other economic indicators have improved over the past five years, so have tourist numbers.
Between 2013 and 2017, numbers increased by 44 percent. During the same period, revenue increased by 64 percent.
Portugal was also ranked number one in the Travel BI World Travel Awards & European Best Destinations, Country & Cities rankings ICCA 2017.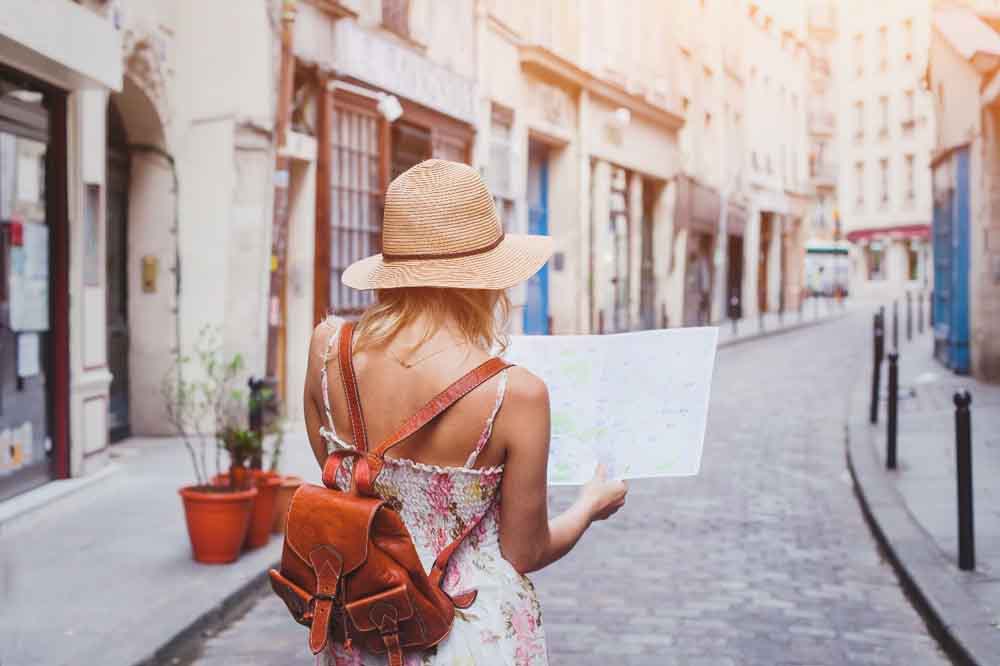 Secure and peaceful with a high quality of life
Expat Insider 2018 (Internations) recently ranked Portugal as the sixth best country in the world for expats to live in - and number one in Europe.
Part of the reasoning for this is its security and high quality of life.
Along with the excellent infrastructure already mentioned, it ranks well for access to public health services and high-quality educational facilities, including high-performing universities.
The country is also ranked as the fourth most peaceful country in the world by the Global Peace Index 2018.
Widya Lesta, JLL's Director of International Residential Singapore, explains:
"High quality of life, tax benefits, property price growth, the Golden Visa programme, vibrant tourism industry - all of the above makes investing in Portugal an attractive proposition for adventurous Singaporeans look to explore new markets."
But remember, no investment decisions should be made without thorough research and trusted professional advice.
For further information contact JLL International Residential directly at +65 6220 3888 or internationalresi@ap.jll.com