Affordable and attractive London hotspots for First Time Buyers
House prices have risen significantly nationally over the last three years, and it feels as if the first step onto the housing ladder has become more challenging. Despite this, the dream of owning their first home for many is not dwindling. On average, first time buyers paid £457,482 for a home in London during 2022, 72.8% more than they were paying a decade ago in 2012.
London's youngest and coolest boroughs
On a mission to stretch budgets and find more affordable homes, there has been a migration of younger people Eastwards over the last decade. This is reflected in the strong population growth we have seen in East London boroughs. Tower Hamlets has seen the strongest 10-year population growth of 22% and combined, both Newham and Tower Hamlets has seen an increase of 99,000 residents, in the ten years to 2021.
Tower Hamlets and Barking and Dagenham have attracted the largest number of young residents, taking the crown as London's youngest borough's with a median age of 33, followed by Newham at 34 and Hackney at 35.
Arguably home to some of London's coolest and edgiest areas. Quite literally … Hackney Wick was recently publicly voted as London's coolest neighbourhood in a survey by Naturecan. And there is something for everyone; Broadway and Borough markets for the food and coffee connoisseurs, or Columbia Road Flower market and Old Spitalfields market for the art and vintage fashion lovers. There is plenty of green space across East London too, home to Victoria Park, Hackney Marshes and Walthamstow Wetlands. Our living priorities survey highlights just how important this is to our residents, with proximity to green space voted as one of the top five most important aspects of a home.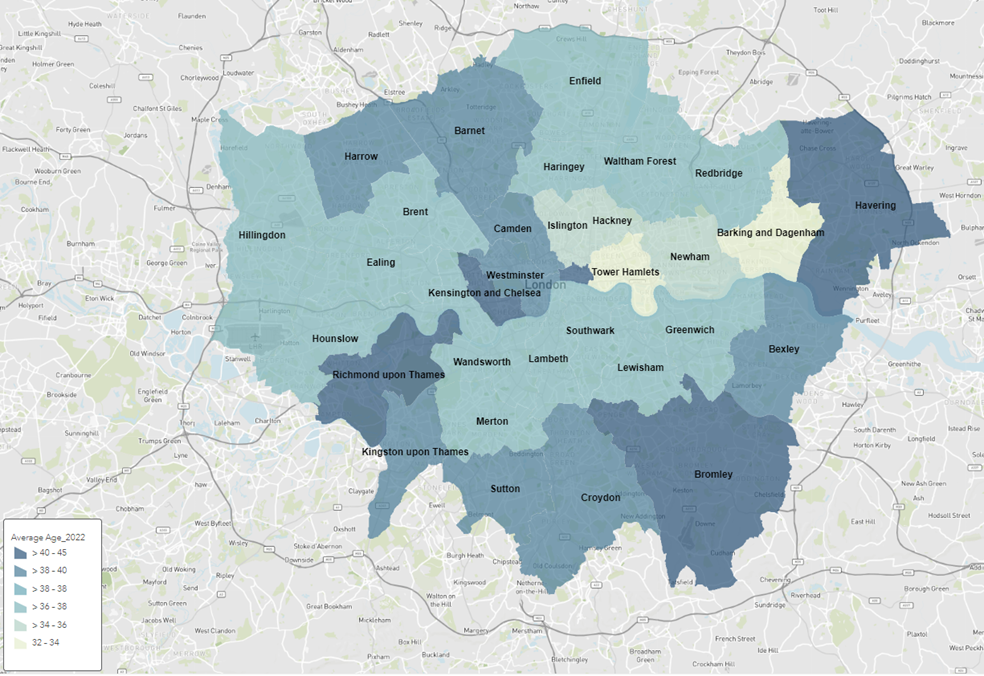 Affordability in East London
East London boroughs remain some of the most affordable areas to live in London, albeit the area has seen strong house price growth in recent years. To assess affordability across London, we have looked at the average price paid by first time buyers in 2022 in London, alongside Shared Ownership opportunities, and compared monthly re-payment options against the average rent for a similar property. In most cases, it is still cheaper to rent in London, although the margins are slim when we compared higher deposit rates (10% or 15%). For those who have borrowed at 85% loan-to-value, there is just a £31 difference in re-payment costs per month compared to renting. Shared Ownership is an attractive option for those with smaller deposits, providing a stepping stone onto the ladder for many first time buyers. When comparing a 25% share (of the average first time buyer price of £457,482), in addition to the monthly rental payments on the remaining share of the property, buyers could save an average of £442 per month compared to renting.
Affordability: Average first-time buyer home versus rent
| Scheme | Monthly mortgage re-payment | Monthly rent | Difference in costs |
| --- | --- | --- | --- |
| Mortgage - 95% LTV | £1,953 | £1,716 | £237 |
| Mortgage - 90% LTV | £1,850 | £1,716 | £134 |
| Mortgage - 85% LTV | £1,747 | £1,716 | £31 |
| Shared ownership (25% share) | £1,274* | £1,716 | -£442 |
*Note: Total monthly re-payment for Shared Ownership is mortgage re-payment + rent
*This table is based on the average costs of a first-time buyer home in London in 2022 (£457,482), assuming a 40-year repayment loan and interest rate of 4.5%.
JLL in East London
Boroughs across East London have seen some of the strongest house price growth over the past year, with six of the seven boroughs exceeding the annual growth of inner London (4.6%). Barking and Dagenham has experienced annual growth of 9.2%, whilst the more populous Hackney and Newham have seen growth of 6.4% and 6.1%.
East London offers a combination of great connectivity, lifestyle and social elements, and affordability. We believe it will continue to be a sought-after residential destination, particularly for first time buyers.
Our East London Schemes
| Annual house Price Growth - East London Boroughs | % |
| --- | --- |
| Barking and Dagenham | 9.2% |
| Hackney | 6.4% |
| Havering | 7.8% |
| Newham | 6.1% |
| Redbridge | 4.5% |
| Tower Hamlet | 4.7% |
| Waltham Forest | 5.1% |
| Inner London | 4.6% |
JLL Research | March 2023
JLL is a leading global professional services firm specialising in real estate and investment management, with $16.6bn annual revenue in 2020, operations in over 80 countries and a global workforce of over 90,000. With over 7,000 employees and 15 offices in the UK, we support our investor, developer and occupier clients at every stage of the property lifecycle across both commercial and residential asset classes. This includes land purchase, access to capital, planning, development advisory, leasing, building management and sales.
JLL's Residential and Living team consists of over 300 professionals who provide a comprehensive end-to-end service across all residential property types, including social housing, private residential, build to rent, co-living, later living, healthcare and student housing.
Disclaimer: © 2023 Jones Lang LaSalle IP, Inc. All rights reserved.
Data within this report is based on material/sources that are deemed to be reliable and has not been independently verified by JLL. JLL makes no representations or warranties as to the accuracy, completeness or suitability of the whole or any part of the report which has been produced solely as a general guide and does not constitute advice. No part of this publication may be reproduced or transmitted in any form or by any means without prior written consent of JLL. JLL, its officers, employees shall not be liable for any loss, liability, damage or expense arising directly or indirectly from any use or disclosure of or reliance on such report. JLL reserves the right to pursue criminal and civil action for any unauthorized use, distribution or breach of such intellectual property.